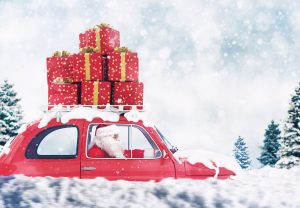 As we enter the month of December, the holiday season rapidly approaches. Usually, the holiday season brings with it holiday cheer and long-lost relatives we miss throughout the year. However, this year is different than most. Coronavirus has forced many to stay at home or quarantine. This has not prevented some families from still getting together for the holidays though.
For those who planned ahead, quarantined properly and gathered gear like masks, travel may still be in the cards. But these aren't the only considerations you need to make if you plan to travel for the holidays. Many drivers overlook routine car maintenance before going on long trips. But it is important to remember that more time on the road means a higher likelihood of accidents and car malfunctions.
The mechanics at Silver Star Motors encourage you to pay close attention to your vehicle's needs this holiday season. We have compiled the following list for how to make your car safer as you navigate the roads this winter.
1. Check your tire pressure.
Being safe on the road requires keeping your tires properly pressurized. However, cold temperatures will cause your tires to lose pressure. We recommend you check your tires every couple of weeks to make sure they're up to scratch.
2. Check your tires for wear and tear daily.
Shorter days means driving more often in the dark. This increases the likelihood of driving over hazardous debris. You will want to check up on your tires frequently and note any wear or possible punctures. The last thing you want this holiday season is a flat tire in need of a change while you're out in the cold or dark.
3. Check your vehicle's fluids.
Staying on top of your vehicle's fluid levels may mean the difference between a smooth trip and a break down on the side of the road. Clean and sufficient amounts of engine oil, power steering fluid, coolant, and brake fluid will keep you safe this holiday season.
4. Get your brakes tested.
Before a long or short journey to see the relatives this winter, have your brakes tested! Faulty brakes can be a disaster, with or without ice on the roads!
5. Get your battery tested.
Winter weather can zap the power from your car battery. The last thing you want is to be stranded in the cold with a car that won't start. Get your battery tested, charged, or replaced this winter.
6. Check your lights.
Visibility is key when days are shorter and darker. A broken headlight or taillight may cause an accident.
7. Conduct windshield wiper maintenance.
Replacing your windshield wipers will help your visibility when driving. Keep your windshield wiper fluid topped off as well!
8. Get your car serviced.
Sticking to a recommended car maintenance schedule will decrease your chances of an accident. Regular tune-ups will keep your vehicle running efficiently.
9. Add or repair a back-up camera.
Back-up cameras improve visibility behind your vehicle. Have this device added to your vehicle, or repaired, to improve your rear visibility.
10. Be a cautious driver!
There are many preventative measures drivers can take while on the road: wear your seatbelt, keep audio systems at low volume, don't text and drive, and don't speed!
11. Keep emergency equipment on hand.
You never know what may happen on the roads. Increased traffic and winter weather conditions pose extra threats to drivers on the road. Prepare yourself for emergencies this holiday season by keeping the following in your vehicle:
a spare tire and car jack
a tool kit
emergency lights
blankets
a first aid kit
Looking for German Car Repair in Sacramento? Silver Star Motors Has You Covered
If you're wondering how to make your car safer this holiday season, Silver Star Motors can be of service. We offer tune-ups and routine maintenance services to help you guard against accidents and malfunctions. Contact us today at (916) 318-9445 to learn more about how to prepare your vehicle for the holiday season.